About Kara
Hello! I'm Kara, the owner/photographer/wearer-of-many-proverbial-hats at Kara Reese Photography. I've had a love for photography since high school when I picked up my first film camera, and spent countless hours in my school's darkroom watching my visions come to life. People have always been my favorite subjects. I started Kara Reese Photography at the age of 16 thanks to help from my entrepreneurial father, and now – nearly a decade later – professional photography is my full-time career and something that brings me great joy and deep fulfillment.
I operate a beautiful, recently renovated 1400 square foot studio in the heart of downtown Waukesha, Wisconsin that boasts a wide variety of backdrops and props along with a cozy room for consultations and order appointments. I am a full-service studio, meaning I work very closely one-on-one with every client — starting with a personal consultation, and seeing your vision through to the very end by hosting your personal "Gallery Night" where we review your photos together in person to decide how the best way to display them may be. I offer a gorgeous selection of prints, wall art, albums, and digital items. My clients love the doting customer service that I provide, and ensuring client satisfaction is something I care deeply about.
I'm married to my high school sweetheart, and we have one child together – a beautiful little boy who was born in November of 2015. While my approach to newborn & family photography didn't change after having a baby of our own, I realized a newfound appreciation for what new parents go through – and so I absolutely can relate to each expecting or postpartum mom that walks through my studio doors! I'm also not afraid to make ridiculous noises or flail around to get the attention of little ones – I totally know how that goes!
We also have two loud, hairy, goofy Siberian Huskies named Loki and Mishka. In my spare time (but let's be real, between being a mom and a full-time business owner, there's very little spare time, ha!) I love to curl up on the couch and binge-watch Netflix (usually re-watching The Office for the hundreth time, or Grey's Anatomy, or This Is Us). I also practice calligraphy for fun, and like to knit on my Addi. I'm hopelessly addicted to lattes and chai, and could probably survive on chocolate alone.
But enough about me! I really want to get to know YOU – so please, shoot me an email using my contact form, and tell me about yourself and what brings you to search for a professional photographer. I'd love to meet you.
Sincerely,
Kara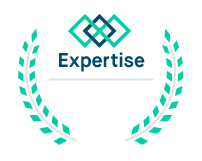 Best Newborn
Photographers in
Milwaukee
2018
About Meg
STUDIO ASSISTANT
Meg Ray is thrilled to be joining the Kara Reese Photography team as a studio assistant. She first fell in love with photography (and gelato) while studying Art History in Florence, Italy. After graduating from Ripon College, she joined the world of event photography. Meg grew up in Wales, WI and recently moved to Delafield. When she's not at the studio Meg can be found reading on her screen porch. She also loves to explore museums, hike, travel, watch Chopped, and play with her Golden Retrievers, AJ and Callie